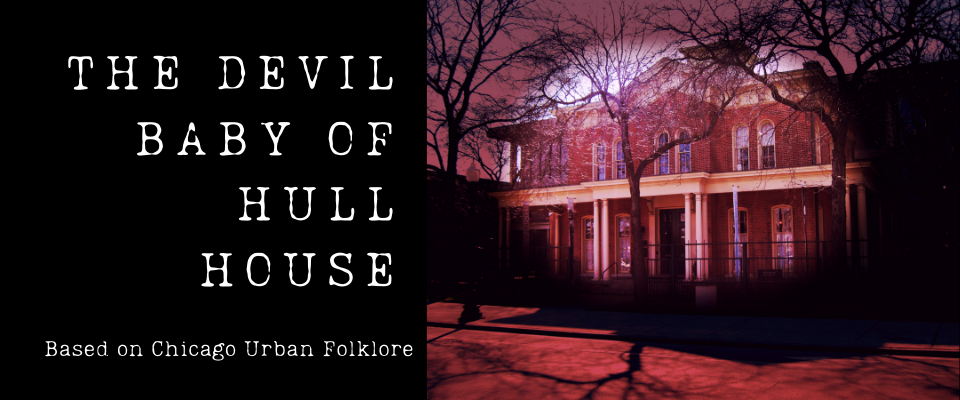 The Devil Baby of Hull House
Chicago, Hallowe'en 1913.
For weeks, rumors have swirled through the city of Chicago. Day after day, people from all walks of life descend upon Hull House, demanding to see what has become known as the Devil Baby. The proprietors of Hull House – a respected and beloved institution dedicated to aiding the city's most vulnerable – deny the existence of any such child in their care. Yet, more and more people continue to arrive at the Hull House door, certain that the tales they've heard are true.
Different versions exist, depending on who's telling the story, but they all agree:
An ungodly man's blasphemous behavior resulted in his innocent, pious wife giving birth to a child of the Devil himself. Unable to cope, the infant's distraught earthly parents delivered it to Hull House. Jane Addams and the staff took it to a priest for baptism, but the child - born with pointed ears, horns, scale-covered skin, and a tail – broke free, laughing and shouting profanities at the priest. Jane, it's said, then took the Devil Baby back to Hull House and locked it away in the attic, where it supposedly remains. Some people claim to see it peering from the window. Others hear its wicked laughter.
The Devil Baby of Hull House takes place on Hallowe'en night, 1913. Players choose from a selection of characters representing the very real people who flocked to Hull House to see the Devil Baby. Each player character's objective? Sneak into Hull House and prove that the Devil Baby is real. It will not be an easy task, however. Many entities guard Hull House – and only some of them are alive.


To learn more about Hull House, the Devil Baby, and the story's sociohistorical context, I recommend Jane Addams, Hull House, and the Devil Baby. CW: The article references newspaper entries, interviews, and other material from the time. Please be aware that it includes or describes:
domestic violence
ableist language
paranormal activity
child death
kidnapping and harm to children
discussion of poverty
alcohol abuse
gambling
sexual assault
war and torture
CW for the game itself:
paranormal activity
death
abandoned child
Purchase
In order to download this game you must purchase it at or above the minimum price of $5 USD. You will get access to the following files:
The Devil Baby of Hull House - Full Color.pdf
846 kB
The Devil Baby of Hull House - Plain Text B&W.pdf
173 kB
The Devil Baby of Hull House - Plain Text in Rose.pdf
173 kB
Exclusive content
Support this game at or above a special price point to receive something exclusive.
Community Copies
If you're in need and can't afford a copy, help yourself to a Community Copy for free. For every purchase of The Devil Baby of Hull House at full price or more, an additional Community Copy is added to the pool.